TAKE ME TO: Events & Workshops | Guest Article
Our Upcoming Trips at a Glance | Post a comment!
Dear Friends,
WHAT'S NEW? Who's in Charge of Your life?

A great question to ask for sure and a wonderfully thoughtful discussion given below in this week's guest article by Briana Lorenz-Marrow. I love how she incorporates working with horses with having a deeper understanding of how we can live our lives more authentically. Don't miss reading it below!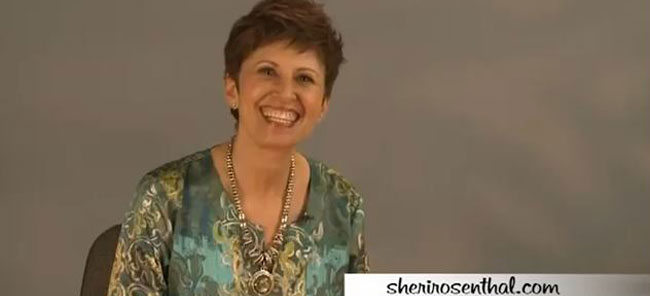 And if you enjoy my crazy witticisms – I invite you over to my new website to view this week's new video message on creating a sanctuary in your home.
Click the picture to the right – and it will take you over there. 🙂
Blessings and love,
Connect with me: Email | Facebook | LinkedIn | Twitter
---
EVENTS, FREE VIDEO-CLASSES & NEW PROGRAMS!


Got a Heart-Centered Business?
Meet me in Las Vegas at Lisa Sasavich's "Speak to Sell" event
May 16-18, 2013
Join me (Sheri Rosenthal) for a very special speaking training program designed SPECIFICALLY for coaches, authors, speakers, trainers, experts and heart-centered entrepreneurs who are committed to providing amazing content AND ready to enjoy BIG sales results – all without being "salesy!"
At Speak to Sell you'll learn how to:
Craft your Irresistible Offer: She'll help you get clear on how to articulate the unique transformation you provide which makes putting your talk together very easy.
Reverse Engineering the Body of Your Talk: Now that we have your offer, we're ready work on the content to sell that offer AND craft your introduction.
The "Secret Sauce": Knowing how to seed and tell stories is the key for selling without being salesy.
Transition to Your Offer: Yes there IS a way you can transition to your offer and have it flow easily and effortlessly.
Maximize Each Opportunity: The most money, sales, new clients, leads for your list, JV opportunities, invitations to speak at other events, etc. can happen at these kinds of events!
If you missed my offer for gifted tickets to Suzanne Evans "Be the Change" event in Orlando in April – you cannot miss this invite. I  have 5 (out of eight) tickets left to gift.
This event is normally $997 – so what better way is there to be able to come to this event for just the cost of your flight, room and food? If you do ANY speaking in your profession – don't miss this.
Get your ticket for Speak to Sell here!
---
GUEST ARTICLE


A Herd of Two: Is Your Higher-Self Leading You?
In recent years many people are becoming aware of and starting to work with horses in areas such as relationship, communication, leadership, responsibility, empathy and awareness, along with spiritual growth and expansion. But why work with horses, what is so unique and special about them?
In the relationship with a horse, there must always be a leader. Horses are either being a leader or following one. In the wild, the leader is responsible for the health and well-being of the entire herd. As a prey animal, a horse's survival is dependent on the choices their lead horse makes about when to eat, rest, flee or fight.
When we bring horses into our world, they continue to look for that leadership from us. In this way, you and the horse become a Herd of Two, ideally with you as the leader guiding them through their choices in whatever environment and discipline you engage.
Like the Herd of Two created between a human and a horse, there is also an internal Herd of Two created within each of us: between our "ego-self" and our "Higher-self." Our "ego-self" is that part of us that constantly looks for danger, focuses on "me," resists change and growth, and is based on self-preservation.
Our "Higher-self" is that part of ourselves that is always connected to both our source of spiritual knowledge and everything around us. It is the truth of who we are and speaks to us through an inner voice, our intuition, and through occurrences in our daily lives.
Our ego-self serves an important purpose, similar to a sentry in a castle staying alert to potential danger. However, while it is sometimes correct, our ego is often based in fear and not always accurate in its observations and judgments.
It is important for the sentry to alert the Captain (our Higher-self) to potential dangers, but it is far more empowering when our Higher-self considers the ego's input, and then makes decisions based on the whole picture, utilizing one's prior experience and knowledge.
It is critical that our Higher-self be our internal leader making the choices in our lives. In this way, we create an "embodied" decision-making process by aligning our choices with both our head (thoughts) and our heart (feelings and intuition), which then manifest concretely in our physical world.
Developing embodied decisions is critical to making harmonious choices. Through working with the horse as guide and teacher, we receive immediate and honest feedback about any incongruity between our inner and outer messages. Taking a horse through specific tasks teaches us what we are truly communicating and how our actions either support or defeat our goals.
Creating emotional and physical alignment through relaxation, breathing, and present moment focus leads to awareness, learning, and creativity. This awareness allows us to manifest the people, places, and circumstances we desire in every aspect of life.
Working with the horse's non-verbal expression, we begin to understand that true leadership is less about what we say and more about what we do and how we do it. We develop our ability to fully trust our own decisions and to lead through example by creating a clear connection to our leader within.
As with the horse, we create an atmosphere of trust in which we are able to influence others, not because we hold a position of power over them, but because they trust us to lead them. As we learn to trust our own internal leadership, we cultivate the keys to empower those around us.
By choosing to accept the challenge of looking honestly at ourselves through the mirror of the horse, we are able to grow and evolve in ways we never expected…changing our lives forever.
Blessings, Brianna Lorenz-Marrow
Briana has been riding since the age of 12 and brings a strong foundation of horsemanship philosophy to her teaching. She believes that part of the gift of the horse is to facilitate openness and learning that otherwise could not take place. Briana's life work has always been focused on service to others, empowering them to manifest their own higher purpose.
Registration is NOW for Equus Elemental's: "Reconnecting to Truth through Horse Wisdom " retreat Sept 18-22, 2013
---
OUR MENU OF UPCOMING FABULOUS ADVENTURES!
~ENLIGHTENING APRIL TRAVELS~
Embodying the Heart of the Mystic
Andalucía & Costa del Luz, Spain – LAST CALL!
Trip Leader: Ellen Luksch
April 13-20, 2013
Soul*Full Women's Photography Retreat
Sedona, Arizona – FILLING FAST!!
Trip Leader: Catherine Just
April 16-21st, 2013
~MAGICAL MAY SOJOURNS~
Access your Dreams Retreat
Carrapateira, Portugal – REGISTER NOW!
Trip Leader: Mami Veza
May 10–16th, 2013
Oneness Awakening Wild Dolphin Trip
Bimini, Caribbean – FILLING FAST!
Trip Leader: Joe Noonan
May 11–15th, 2013
A Women's Journey to Avalon
Sacred Britain – EARLY REGISTRATION NECESSARY
Trip Leader: Cameron Broughton
May 23-31, 2013
The Dalai Lama & Tibetan Buddhism in Exile
Dharamsala, India – FILLING FAST!
Trip Leader: Lisa Tully
May 30-Jun 17, 2013
~GLORIOUS JULY JAUNTS~
The Heart Wisdom of Whales & Wild Dolphins
Panama
Trip Leader: Anne Gordon de Barrigón
Various 5-day itineraries running from: July 7-Oct 11th, 2013
Journey to Machu Picchu – Authentic Spiritual & Cultural Wonders
Peru
Trip Leader: Carol Cumes
July 17-27th, 2013
Crop Circles and Sacred Sites
Sacred Britain
Trip Leaders: Glenn & Cameron Broughton
July 29-August 4, 2013 & Pre-Tour Conference July 26-29th
~AUDACIOUS AUGUST ADVENTURES~
Ayahuasca & Ayni in the Andes
Peru
Trip Leader: Dennis McKenna
August 1-10th, 2013 (Waiting list only right now – email us!)
The Magic of Celtic Country
Sacred Ireland
Trip Leaders: Glenn & Cameron Broughton
August 17-28, 2013
~SOUL-STIRRING SEPTEMBER SOJOURNS~
Highlands and Mystical Islands
Sacred Scotland
Trip Leaders: Glenn & Cameron Broughton
Sept 15-24th, 2013
The Nourish Retreat for Extraordinary Women
Malibu, CA
Trip Leaders: Vasavi Kumar, Maria Zavala, Gigi Yogini + Parashakti
Sept 19-22nd, 2013
Reconnecting to Truth through Horse Wisdom
Tucson, AZ
Trip Leaders: Ezra Marrow, Briana Lorenz-Marrow and Judy Askins
Sept 18-22, 2013 (half-filled register early!)
Journey to Machu Picchu – Authentic Spiritual & Cultural Wonders
Peru
Trip Leader: Carol Cumes
Sept 26–Oct 5th, 2013
~BOLD OCTOBER EXPEDITIONS~
A Sacred Pilgrimage to India
India
Trip Leaders: Elaine Dodson, Jahnava Devi, and Mahatma Das
October 15-27th, 2013 (Elaine's trip is already half filled so register early!)


~NOURISHING NOVEMBER RETREATS~
The Clarity + Heart Elixir
Uxmal, Yucatan
Trip Leaders: Sheri Rosenthal + Rev Frankie Timmers
November 9-16th, 2013
~~~~
Want to see our whole line-up for the upcoming year?
Visit our Trips at a Glance page.
---