TAKE ME TO: Events & Workshops | Featured Article
Our Upcoming Trips at a Glance | Post a comment!
WHAT'S NEW? Breakthrough Self-Limiting Boundaries!

I am really excited to share this wonderful book with you by my dear friend Ray Dodd who studied with don Miguel Ruiz during the same years that I did.
In his new book: The Toltec Secret to Happiness – Ray reveals how hidden beliefs create barriers to living a happy life, and how to break through self-limiting boundaries by changing those beliefs.
Imagine being happy and content even in the most difficult times. An impossible dream? Not at all. But if your desire for happiness isn't being reached by trying harder, having more, or knowing more, the problem may lie hidden within the core of your deepest beliefs.
Building on the Toltec Wisdom Path popularized by don Miguel Ruiz (The Four Agreements), Carlos Castaneda, and many others (myself included!), The Toltec Secret to Happiness offers four simple steps to transform any belief that stands in the way of your happiness.
By purchasing The Toltec Secret to Happiness on Wednesday January 29th – ONE DAY ONLY TODAY – you'll get additional wisdom from Eckert Tolle, Dr. Bruce Lipton, Neale Donald Walsh, and more as your free gift with purchase. Also available on KINDLE.
To get The Toltec Secret to Happiness AND your bonuses
CLICK THIS LINK: 
www.beliefworks.net/toltecsecretbook.htm
Blessings and love, Sheri Rosenthal
Connect with me: Email | Facebook | LinkedIn | Twitter
---
EVENTS, JOURNEYS + WEBINARS!
A Week of Sacred Renewal: Sedona, AZ
March 29-April 5, 2014

Join author and facilitator Susan Gregg in the serene and rejuvenating setting of the Sedona Mago Retreat Center. This retreat offers an opportunity to lift out of habitual patterns, connect with fascinating new friends, write and fall back in love with your gifts.
Spiritual teachings combined with transformational exercises deepen your connection to yourself and to the world around you. This work will gently move you from your thoughts and fears down into your heart. From this more connected place, you have a shift in perception, which is where the miracle happens.
Come experience that miracle within yourself. This workshop will inspire powerful openings for deep awareness – you will be empowered to understand who you have been and create with clarity about who you are becoming. Come prepared to create infinite possibilities and awakened outcomes!
The Sedona Mago Retreat Center's dining staff prepares health-conscious, pesco-vegetarian meals that include fish, eggs and dairy. Their food is naturally prepared and features seasonal fruits and vegetables that come straight from their organic garden. Trip tuition: $2200 USD per person double occupancy, all meals included.
Details + registration for Sedona here!
---
Workshop: Creating Your Dream Life for 2014!
March 8-9th New Orleans, LA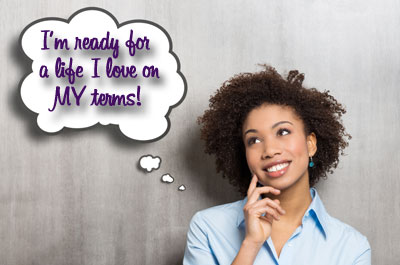 Let's face it – everyone wants to live a good life right? We want the best for ourselves and our family – but often as we travel the path of life we give up our dreams and desires in favor of what we believe others want for us – rather than pursuing what we really have in our heart.
It's easy to get comfortable living life as we know it because it's certain – we know exactly what's expected of us, the direction life is going, what we are going to feel or not feel. Creating our most awesome life can be scary because we're taking a risk – not knowing what the results of our actions will be. We have no idea if our family or partner will agree with the changes we want to make, and we have no idea if we'll lose their love and approval.
So if you ever wake up wondering whose life you're living, feel like you're lacking clarity, find yourself short-tempered, frustrated or unhappy, wish your relationships were more supportive and loving and/or crave freedom from your own life and mind – you've got to join me (Sheri)!
In this two day workshop, we're going to explore what it means to create an amazing life and identify what elements are preventing us from living our best life. And not just our best life – I'm talking about the most audacious life!
---
SHERI'S ARTICLE
Changing Direction in Life
Years ago, before embarking on my spiritual path, I believed that I would and should have a career that would last until my retirement. But since then, and after many years questioning such beliefs and programming, I have come to realize that it is not in the nature of fluid beings of light to be doing anything for an extended period of time.
Yes, I do agree that there are some folks who find something they adore and stick with it for their lifetime – but they are not in the majority. Perhaps we can say that they are blessed with an unending passion for what they do.
However, for the rest of us, we often chose a career that is seemingly steadfast and fiscally sound until we find ourselves terribly bored and without passion. Or maybe we never felt any passion in the first place for our career or maybe we never knew what we wanted to do in life at the time we made those choices. If you are one of those people who are not enthralled with your career – read on.
There's always a moment when we realize our life is not going in the direction that we always dreamed it would go – it's kind of like getting hit with the cosmic two-by-four and asking: How did I get here? Sometimes we call that a mid-life crisis, spiritual breakdown or a come-to-Jesus moment.
No matter what we call it – the best aspect of this realization is that it brings with it unending possibilities and opportunities – if we are willing to be open to the miracle of life.
I can't leave where I am until I have something new in line.
I don't know what I want and until I do I should stay with this.
I'm too old to start something new at this time.
I don't have the resources to make what I would like happen.
I don't know how to create what I would like.
I don't know anyone in that business and have no connections.
If any of these objections have passed through your mind – please see them for what they are – lies. You are capable of creating anything – especially with help. There are so many people out there willing to assist us in creating our dream – but we must be willing to start talking about what we would like and asking for assistance.
Believe me, you are never too old to create something new and allow your spirit to soar. There are no excuses for mediocrity and you pay a very high price for a little safety in life.
If you haven't thought about any of this before – perhaps now is the time to meditate on your happiness before the cosmic two-by-four gets you! Spread your wings, open your heart and fly.
Blessings & Love, Sheri Rosenthal
Join Sheri in Maui for her delicious retreat March 18-23rd. Our early bird special ends on Feb 1st – so if you want to come NOW is the time to register. If you've been feeling a bit down and dragged out – this retreat will have you recharged, centered, and ready to create magic in your life and business!
A former podiatric surgeon, Dr. Sheri Rosenthal left behind clinical success to find her life's passion as a transformational coach, international retreat leader, speaker, and author. Along the road from doctor to coach, she studied eight years with don Miguel Ruiz, author of The Four Agreements. Sheri's studies inspired her to write The Complete Idiot's Guide to Toltec Wisdom, Banish Mind Spam!, and create the How to Forgive online eCourse.

Leaving medicine and reinventing herself was life-changing, empowering her to help others envision their possibilities with clarity, break free from confusion and indecision, and take positive action without self-sabotaging inner dialogue. By creating a laser-lucid, step-by-step plan – Sheri's clients can achieve their dreams and transform their lives from mundane to audaciously abundant.
---
~MAGICAL MARCH SOJOURNS~
Mystics, Oracles & Shamans of Ladakh
Ladakh, India
Trip Leader: Lisa Tully
Mar 6-19th, 2014
The Enliven + Energize Women's Retreat
Maui, Hawaii
Trip Leaders: Sheri Rosenthal and Deborah Kagan
March 18-23rd, 2014
A Week of Sacred Renewal
Sedona, AZ
Trip Leader: Susan Gregg
March 29-April 5, 2014
~ENLIGHTENING APRIL TRAVELS~
Dream You 2.0!
Peru
Trip Leaders: Laura Pirie + Luca DiMatteo + Russ Jones + Jorge Luis Delgado
April 22-May 1, 2014
~MARVELOUS MAY EXCURSIONS~
Highlands and Mystical Islands
Scotland
Trip Leaders: Glenn + Cameron Broughton
May 11-18th, 2014
A Women's Journey to Avalon
Sacred Britain
Trip Leaders: Cameron Broughton
May 29-June 6th, 2014
~~~~
Want to see our whole line-up for the upcoming year?
Visit our Trips at a Glance page.
---